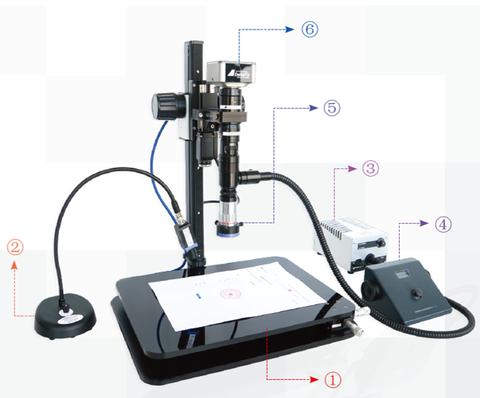 Device Specifications
Evidence Stage (400mm×310mm)
LED White and blue (440-460 nm)
Coaxial light source Z-axis controller (micron-sized) Objective (×10)
10 megapixel high-performance digital camera
32 inch 4K monitor and computer system
Changeable Zoom module: (0.7~4.5)
System magnification: 100x ~3400x
FOV:9.6mm×6.4mm (100x); 0.3mm×0.2mm (3400x)
Made in Denmark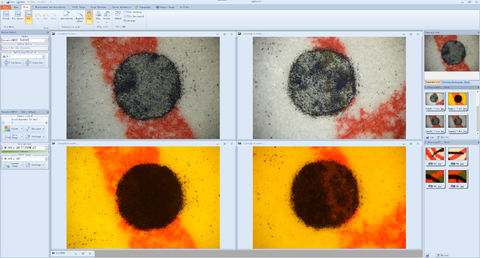 DeHao VF10 VIDEO Microscope Hardware
Digital camera,10 Mpixel USB3.0 camera with 2/3' sensor, up to 15FPS in full resolution.
Manual high quality 6x Zoom microscope, optical zoom range 0.7-4.5x. Includes various adapters for mounting directly on stands.
Z-stage for macro stands. 50mm movement.
Standalone focus controller with Ergonomic focus control for both left and righthanded, "Manual control" and position read out. Works with Prior, DeltaPix Z-focus motors. OLED Display for Z-position read out.
Base plate system of Alu-base plate + Acrylic documentplate + 2x support blocks + Fine adjustment XY-stage.
Coaxial light source, used for the Sequence Forensic - Stamp First OR Printing First,Stamp after printing, usually, under the coaxial light, golden shine will be observed. Also very sensitive to identify the secondary printing of laser printing document.
Blue light source440-460nm, used for the Sequence Forensic - Stamp First OR Printing First, usually the stamp ink will generate fluorescence and could be observed by VF10
White Light Source, for normal magnification observation such as the accumulation morphology and distribution characteristics of toner particles of laser printing documents.
White transmission light source, used for identify if the holes of the toners on the documents are through holes.  
DeHao VF10 VIDEO Microscope Software
Software control on electrical and mechanical component with each one fully
including camera, zoom optics.
3D-imaging capture, Image Extension, Depth Extension, Exposure Extension, etc.
Length, angles and square measurement with annotation support
View and comparison of multiple images under the same display
Digital scale bar operation in real-time image and static image
One-year free software update
Accessories
Cables to connect all modules to PC.
Adapter set for VF10, plates for focus motor mount and cable attachments.
Paper Weight
Power supply adapter
Software Installation USB stick
User Manual & Quick Guide
RECOMMENDED DESKTOP PC AND MONITOR (NOT INCLUDED)
Intel Core i7 processor or equivalent
500GB SSD or equivalent (SSD highly preferred)
16GB RAM or higher
Individual Graphic Card of multiple outputs (with a minimum 2GB RAM)
32" inch Flat Panel 4k Monitor