DeHao FSS is designed for scanning the footprints on the crime scene. Dehao FSS is good at catching the latent dust traces on the floor with complex pattern, it is often present on the scenes of major criminal cases.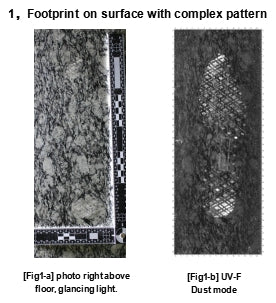 DeHao FSS is a nondestructive scanning device. The surface dust scattering light is spread over the space around the direction of reflected light of the same surface. Base on this knowledge, UV-F only collects a part of scattering light and avoids the reflected light at the same time, so it has the great superiority of SNR, and the high sensitivity for the weak dust footprint. A lot of footprints on crime scene can be found by UV-F while they are invisible with regular photography or electrostatic adsorption.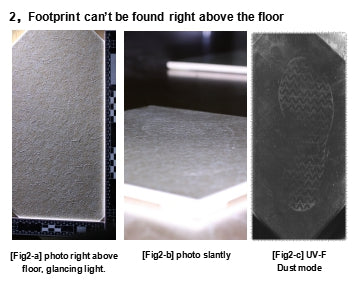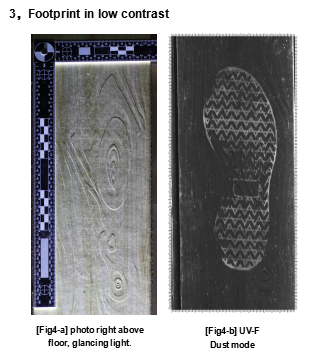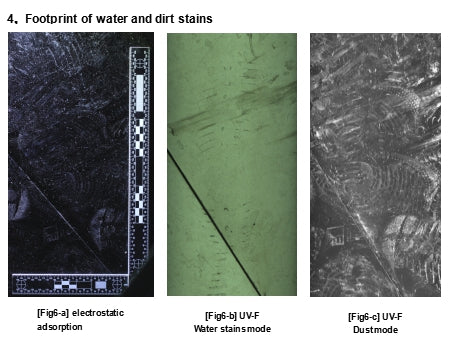 Acquisition of difficult footprint, for example footprint interfered by background pattern, footprint on floor with high reflectivity, footprint can be observed only at a tilt angle.
High SNR, Due to background information weakened, the footprint image signal-to-noise ratio improved.
Multiple acquisition mode, special mode for the dust footprint, water footprint, flood footprint and some other footprint situation. Users only make a simple choice according to the site situation to acquire images.
High sensitivity, more sensitive than the electrostatic adsorptionfilm for dust footprint.
All-weather operation,Camera and Lights are built in the same unit,

Dehao FSS

can work both day and night, not affected by external light source.
Nondestructive, with optical scanning imaging mode, UV-F does not touch floor, does not destroy the scene.
Uniformity, pictures scanned by

Dehao FSS

have uniform illumination and good contrast.
Distortionless, there is no deformation problem caused by photography.
Automation, noexperience and training required, one-click scanning imaging.
Built-in scale,

Dehao FSS

automatically draw the perimeter scale without placing a physical scale.